10% Off of a Stormseal Starter Kit...and now offering 15% Off for Veterans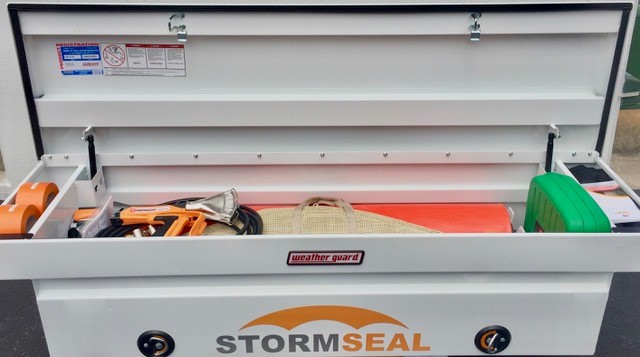 Register for Stormseal installer training in June, July, or August and receive 10% off your Starter Kit and now offering 15% off for veterans. That's over $500. in savings. This is a strictly limited offer, so be quick.
Stormseal is an innovative alternative to tarps that provides a better solution for roofing contractors, insurers and homeowners. Stormseal secures storm-damaged properties, resisting wind, rain, and hail until permanent repairs are made.
Kit includes : • 2 x Stormseal UVFR rolls (total of 3000 square feet) • 4 x Stormseal all weather tape rolls • 1 x Membrane welding gun with welding nozzle • 1 x Gas gun with 20ft high-pressure hose and regulator • 1 x Set of three welding jigs with carry all case • 1 x Tape gun • 1 x 65 ft High-pressure hose and regulator
Sign up for an upcoming class and receive your Starter Kit Discount upon completion.