Meet the Cotney Global Team One Podcast at a Time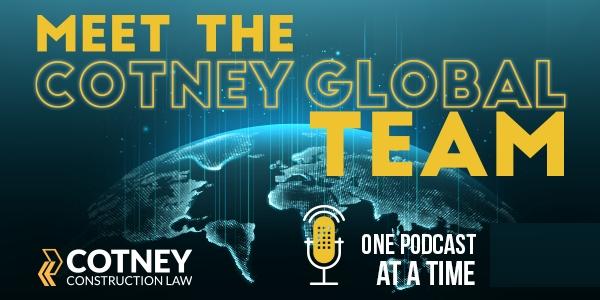 Please enjoy these podcasts and join us as we add more podcasts throughout the month.
Learn more about Cotney Attorneys & Consultants by visiting their RCS Directory.
---
In this episode of Roofing Road Trips, Heidi Ellsworth, RCS CEO, chats with Lee Lipniskis about her journey through the roofing industry. Lee Lipniskis is an associate consultant at Cotney Attorneys and Consultants. With experience in insurance, finance, and the contractor's side of the industry, Lee has has a finger in every roofing pie. Learn about her journey through roofing in this exciting improvised episode of Roofing Road Trips.
---
On this Roofing Road Trip, Heidi chats with Ben Briggs who leads the Cotney Labor and Employment initiatives. Ben is on the forefront of employment issues including wage and hour, nonexempt and contractor status, OSHA and harassment issues. Listen to learn about changes coming up in employment law and what has been on the docket on the legal side of construction this past year as well as what we can expect in 2022.
---
In this Roofing Road Trip, Heidi J. Ellsworth, RCS Partner catches up with Ashlee Poplin of Cotney Attorneys and Consultants about how business, regulations and Covid recovery are going in the Cotney Carolina. They talk about how vaccinations are affecting contractors along with important tips on how to deal with current COVID-19 restrictions and vaccination planning. Finally, Ashlee shares her outlook for 2021 roofing in the Carolinas overall.
Transription Coming Soon
---
Heidi J. Ellsworth, RCS Partner visits with Kathleen C. Ropka an attorney who is based in Cotney Construction Law's Chicago office. In this Cotney Around the Globe Podcast, they discuss the Chicago office and some of the hot topics and trends in the city and the Midwest in general. Kathleen's practice and the Chicago office's focus encompass a variety of areas of construction law including construction litigation, contract review and drafting, lien and bond law, contract negotiations, corporate law, commercial litigation and real estate. Heidi and Kathleen touch on the expansion of Cotney Around the Globe and especially the focus on providing in-person legal services in Chicago, the home of the National Roofing Contractors Association (NRCA) of which Cotney Law serves as general counsel.
Recorded December 17, 2020
---
Heidi J. Ellsworth, RCS Partner, visits with Gabriel D. Pinilla and Ryan K. Markham, lawyers in the Cotney Construction Law Denver office. The Cotney office continues to turn heads in the Denver market with exceptional legal consultation, advocacy and representation of both roofing contractors and subcontractors. During the podcast they will talk about roofing in Colorado after a Covid-filled year, the importance of safety and how they are helping contractors develop a 2021 plan that is all about proactive legal service.
Recorded December 10, 2020
---
Heidi J. Ellsworth, RCS Partner visits with Jeremy Power and Samuel St-Jean of Cotney Construction Law. The three talk about Cotney's latest launch in Canada and what that will bring to contractors in the United States. They enlighten us on the difference between US and Canadian COVID-19 legal jargon and how to protect yourself if you work in both countries. Listen to this week's installment of Roofing Road Trips with Heidi to learn more about the Cotney Construction Law's recent appointment as general counsel for CRCA (Canadian Roofing Contractors Association) and what Cotney can bring to the table to help you!
Recorded October 13, 2020
---
Every state is different, and it is important to understand how different state laws and regulations can affect a roofing contractor's business. Heidi J. Ellsworth, RCS Partner visits with Michael Litrenta and Ashlee Poplin of Cotney Construction Law out of the Carolina Office about their role in providing important information at a state level for the roofing companies of the Carolinas. They will also review important tips for currently dealing with COVID-19 and future societal upheavals by understanding pertinent laws and/or regulations at the state level.
Recorded April 1, 2020
---
Heidi talks with Trent Cotney of Cotney Construction Law about their part in the roofing industry and the help they provide. Cotney Construction Law, LLP is a national construction law firm that advocates for the roofing industry. The firm serves as General Counsel to Florida Roofing and Sheet Metal Association (FRSA), Tennessee Association of Roofing Contractors (TARC), Roofing Technology Think Tank (RT3), National Women in Roofing (NWIR), and a number of local roofing associations. Cotney Construction Law's practice areas include construction law, litigation, arbitration, contract review & drafting, immigration, employment, OSHA defense, licensing defense, bid protests, lien law, bond law, and alternative dispute resolution. Learn more at www.cotneycl.com.
Recorded September 9, 2020.
---