S

ureCoat Systems is the ONLY waterproof liquid single-ply coating on the market that is renewable for the life of the building. If you're new to this niche or have never heard of this revolutionized single-ply, let us tell you what you've missed.
Jesse Martinson, President of JemStar Construction and innovator behind SureCoat Systems, started in the construction industry at the auspicious age of 17.
He worked in the family business learning to build new things and perfecting each skill set until one day he was needed to take over for his stepfather who had taken ill. Set on a new path, Jesse embraced his new position with a passion and drive to provide the industry with honest and professional work, and took the next logical step by starting his own company.
With five-plus contracting licenses and expertise in over 10 trades, Jesse has built just about everything over the years. His extensive knowledge base gives him the opportunity to engineer each project and product from scratch. He has the skill and ability to understand every building system and how they seamlessly work together and affect each other — from moving parts to a final product.
In the late 90's Jesse saw a need emerging in the industry. As a contractor, he was buying roofing and waterproofing materials, and the majority of these products were not performing as they were marketed or promised to deliver. When angry customers and failed products came to rise, he found out the hard way that the big box companies have big departments telling you a product will do something and when it doesn't, they have even bigger departments to tell you what they're going to do to fix it, which is usually nothing. He was frustrated and not to mention liable for big projects and even BIGGER money, with no solution. So he found one for himself. When working on formulating a reliable product, a leader in the marine waterproofing industry approached Jesse. Harnessing the strongest attributes of marine waterproofing materials, applications, and formulations while leveraging Jesse's proven construction practices answered the need to coating failures. And with that, a beautiful sticky white goo known as SureCoat was born.
You may have found us or heard of us because of our proven roofing system, but we leave no surface areas uncovered. StrucSureCoat is our thermodynamic designed elastomeric wall coating formulated to withstand freeze/thaw fluctuations and reduce radiant heat transfer effectively lowering cooling costs. Encapsulate your next project's property with StrucSureCoat, and we promise it's the most durable wall protection your money can buy.
Not only are we "Cool & Green" providing protection for all areas of your property, but we also offer even more value, our SureCoat Roof System and StrucSureCoat Wall System are HERO/PACE approved offering a proven solution and dynamic energy savings for all HERO/PACE Approved contractors too! And, if your non-HERO/PACE clients need a cost-saving option too, we're the only product on the market that offers a partial restoration. Repair the vulnerability now and work up to a fully warranted system when the budget allows. It's that simple!

SureCoat was created with the focus of serving the multi-billion dollar coating industry with a product that is reliable and a company focus that supplies unwavering support for its customers and clients. Today, SureCoat is the best product on the market with the proven field-testing to back it up.
Learn More by Visiting Our Website Here

---
Announcing SureCoat Systems FaceBook Live Series
How confident are you when you purchase home maintenance or repair products?
Do you ever know for sure that you are buying the best solution money can buy?
What if we told you that you could protect your property with a waterproofing system that you are so confident in it will blow your mind?
No more wasting time looking for a product that may or may not work for a short period of time and no more repairing leaks… for a long time. SureCoat Systems was created to defeat these issues and to just WORK.
Our innovator, Jesse Martinson needed a reliable waterproofing system for his clients, property owners of all types and as a product offering for his contractor business.
Harnessing the strongest attributes of marine waterproofing materials, applications, and formulations while leveraging 30+ years of construction experience answered the need to coating failures. Field testing and monitoring the life of our products performance for well over a decade at different installations in diverse climates have proven it so.
SureCoat Systems has got your back! SureCoat is made to be a monolithic material with enough elongation, in extreme temperatures and weather conditions so that it won't lose its memory, become brittle and crack. No matter how big or small your project, SureCoat Systems will protect your property.
SureCoat Systems is a uniquely formulated waterproof coating system that stands up to the elements including:
UV radiation
ponding water
wind-driven rain
pollutants
mold
mildew
animal fats
most chemicals
Watch More Videos Here
---
New Product - Deck Saver System
The SureCoat Deck Saver System is a waterproof, highly bonded, seamless deck restoration system intended for new and existing pedestrian decks and walkways. This deck restoration system is applied in multiple layers to provide a reinforced single-ply system that conforms to existing site conditions, while remaining flexible, resulting in a fully-adhered seamless deck.
Learn More Here

---
Remote Roof Inspections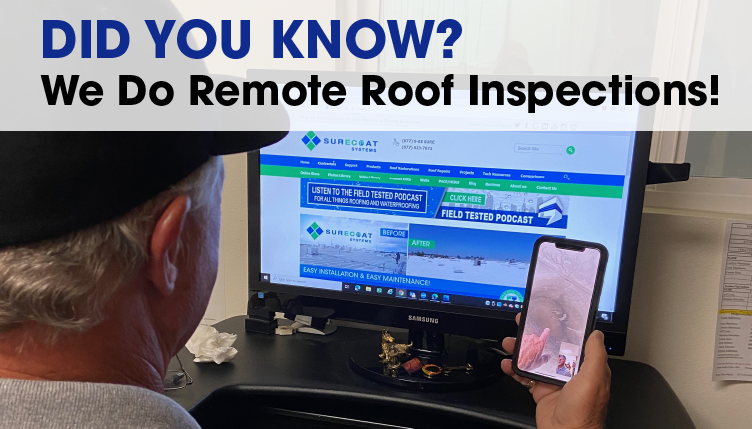 The SureCoat Systems team is now offering remote commercial roof inspection support to save you time and money!
1. Why are remote roof inspections a great idea? Video inspections eliminate wait times and allow us to view the roof with you and offer recommendations.
2. How do remote roof inspections work? Video inspections are simple, we are able to work with you and whatever software is most convenient; Facetime, Skype or Zoom. You name the app, schedule a time and we'll be right there on the other side of the camera.
Schedule Your Remote Inspection Here
---
SureSet Quick Dry Roof Coating
---
Field Tested - Waterproofing Your Building Surfaces
Listen to Our Most Current Field Tested Podcast Here