Leading the Path in Daylighting Technology Since 1978
Since 1978, Sunoptics has been a trusted partner for providing superior natural light and leak-free skylight designs for roofers, architects and building owners.
Our skylights feature high-performance patented prismatic lenses that provide maximum light transmittance while maintaining 100% diffusion —eliminating undesirable hot spots, glare and UV damage to the daylit space.
To ensure high-grade products, Sunoptics extrudes its own plastics using high-quality materials. This allows for total quality control of the manufacturing process and optical quality of the lenses.
To further promote sustainability, we regrind our post-industrial scrap material, allowing us to provide a minimum of 50% post-industrial recycled content in our plastic. Sunoptics skylights and daylighting delivery systems harness the power of the sun to maximize the cost-effective energy savings of daylighting in warehousing, manufacturing, office and retail applications. Our national distribution network stands ready to serve your local needs. As part of the Acuity Brands® portfolio since 2011, Sunoptics® offers the advantage of providing holistic daylighting product solutions consisting of skylights, LED luminaires, and advanced lighting controls from one source.
Revolutionizing the daylighting market through technology.
[1978] Introduced the first fixed passive solar daylighting device that captured low-angle daylight through its prismatic-dome design to the skylight industry.
[2011] Acquired by Acuity Brands, a market-leading industrial lighting and technology company. Acuity Brands achieves growth through the development of innovative new products and services, including building management systems, lighting, lighting controls, and location-aware applications.
[2016] Launched LightFlex™ LED Tunable-White Tubular Daylighting System (SLFTL). The LightFlex™ LED daylighting system (SLFTL) is the industry's first LED tubular daylighting system with integrated controls to provide natural light, tunable-white LED light, or a combination of both — in the same system.
---
Why Daylighting?
Lighting Design Today is centered on human health and well-being; while at the same time lowering energy use, meeting code and being sustainable. Daylight is natural, and it's free! Intuitively, we all sense that natural daylight is best, and studies continue to show its intrinsic benefits to human performance and morale in applications such as education and retail.
Sunoptics defines daylighting as the automated control strategy that uses properly diffused and dispersed natural daylight with advanced lighting controls to minimize the use of electric light in an interior space throughout the day. It provides a responsive energy-efficient human-centric lighting solution that supports occupant health and well-being, reduces energy costs and carbon emissions – contributing toward corporate ESG initiatives.
Read about the benefits of Daylighting.
---
Daylighting Solutions
Sunoptics® Skylights and Daylighting Systems' products represent more than four decades of daylighting expertise and experience. We are the only skylight manufacturer that extrudes its own plastic for total quality control. This allows us to control the light transmission capability of our plastics while maintaining the highest level of product quality in the industry. Our onsite state-of-the-art photometric lab confirms performance.
Raising the bar in quality and performance, Sunoptics products are tested and certified by third-party independent organizations to ensure compliance to safety, quality and performance standards. From hurricane-zone and hail-rating to military-grade compliance, we've got you covered. Sunoptics commercial skylights with a proprietary frame design to UL Listed smoke vents, dynamic tubular daylighting systems and fall protection; Sunoptics has the product you need to support your daylighting project.
Let the Sunshine In with Skylights
Natural daylight through skylights can contribute to occupant well-being and workplace efficiency. All skylights are not created equal. Sunoptics® skylights use patented prismatic optics to maximize light transmittance while eliminating undesirable hot spots, glare and UV damage to the daylit space. Sunoptics® is the only skylight manufacturer that extrudes its own plastic for total quality control. This allows us to control the light transmission capability of our plastics, while maintaining the highest level of product quality in the industry.
Our Signature™ Series (SIG) skylights are available in standard sizes from 2'x2' to 5'x10', as well as custom sizes to accommodate your every need. They feature all-aluminum frames with integral condensation gutters and thermal breaks to provide worry-free leak protection. For ease of installation, the Signature Series multi-glazed skylights come standard with a weather sweep, foam curb-seal tape, and stainless-steel fasteners.
For added durability in storm-prone areas, all Sunoptics polycarbonate prismatic skylights are resistant to Class 4 hail; while our ClearArmour® polycarbonate prismatic skylights are FM Rated and Hurricane Zone rated - including Miami-Dade County Approved, Florida NOA No. 21-0318.03, Exp 05/20/2026.
Our military-grade option is the only prismatic skylight in the market with the strength to meet the requirements for ASTM F1642 and GSA-TS01. This ensures that we meet or exceed what is required for air blast loadings and wind/overpressure loadings to support DoD applications.
The Double-Hip (DHP) and Pyramid (PY) Lens Skylights provide versatile and aesthetically pleasing solutions for retrofit applications or reuse of existing roof curbs. The clean, smooth lines add an architectural flair to your natural lighting design.
Have a custom-designed application needing larger than a 5' x 10' single light application? Our Multi-Lite Prismatic Skylight (MLT) is a custom architectural skylight with multiple lenses in high-performance lens configurations designed for monumental applications up to 9' widths and extensive lengths.
Smoke Vents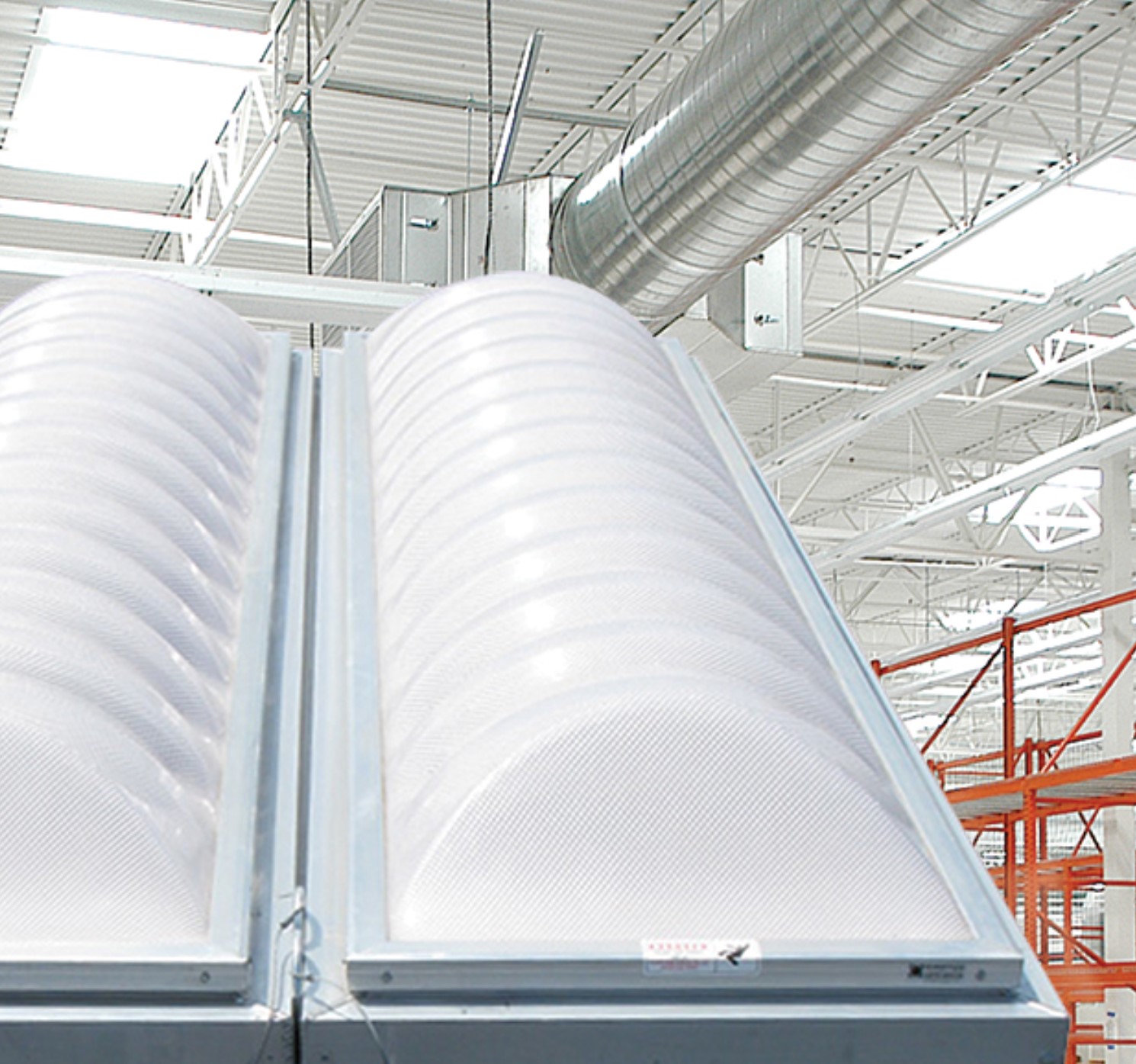 Safety & Daylight - a Winning Combination. It's about life and your property. Sunoptics® UL Listed and FM Approved smoke vents are ideal for use in industrial and commercial buildings with emergency smoke evacuation requirements. Most new construction requires smoke vents – Sunoptics gives you the opportunity to meet code AND add the benefit of daylight!
Sunoptics® Industrial Smoke Vents are ideal for use in industrial and commercial buildings where emergency smoke evacuation requirements are needed. Sunoptics has multiple smoke vent models and certifications available for your smoke vent needs.
Easy Fiberglass Panel Replacement
The EZY Curb™ Daylighting System from Sunoptics® is an innovative, cost effective, modular curb system designed specifically for R-Panel metal roofs. It allows for easy one-for-one replacement of inefficient, low-performing fiberglass panels. Compared to a traditional metal-curb system, EZY Curb cuts installation time in half, and can be installed by a licensed roofer. See how EZY Curb can work for you!
Available in 10-foot runs or continuous-run, the EZY Curb™ system from Sunoptics® is made from powder-coated galvanized steel and features high-performance prismatic skylights with long-life properties that often mirror the life of the roof system
Browse our Fiberglass Panel replacements.
Roof Curbs and Accessories
All the bells and whistles to ensure your skylight application is safe and secure. Sunoptics offers a full line of structural and insulated wood and metal curb options, as well as wire guards and fall protection.
Browse our Roof Curbs and Accessories.
---
Resources
Sunoptics is committed to being your #1 resource for daylighting information. We believe that education is imperative to raising awareness and changing behavior—at the government, industry, and consumer levels.
Check out our Daylighting Blog.