Trusted by more than 13,000 businesses, Ruby provides
the services, products and analytics small businesses need to manage customer interactions and deliver exceptional experiences, 24/7, 365 days a year.
Ruby helps small businesses build trust, foster loyalty,
and help win new business by meeting today's customer demand for quick answers and personalized service.
Ruby has helped companies grow since 2003 and has earned national recognition from Fortune Magazine as a Best Small Company to Work For in the U.S., Inc. Best Workplaces, repeat Great Places to Work rankings, and a Silver Stevie for Customer Service Training Team of the Year.
---
CALL TRENDS REPORT: Opportunities and insights for growing businesses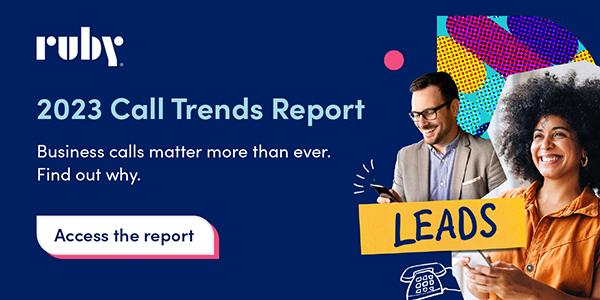 Phone conversations continue to provide important insights into the needs of modern consumers. By asking the right questions, organizations of all sizes can better understand their audience in order to improve service and identify opportunities for growth. These include:
When are people reaching out?
Why do people call and what kind of experiences do they expect?
Who, exactly, is calling?
How does this all impact the bottom line?
Ruby's call trends report explores these questions while highlighting the continued importance of optimized customer communication. We encourage small businesses—from solopreneurs to teams—to use the findings below as a framework for improving customer experiences and attracting more prospects.
---
Here's How It Works
Our highly-trained receptionists take customer experience seriously. Supported by software that empowers human connection, our team can:
Answer and transfer your calls live

Take messages or offer voicemail

Schedule appointments

Collect intake information and answer basic FAQs
Place calls on your behalf

Answer website chats live

Connect qualified chats directly to your phone

And more!
Just like an in-house receptionist at a fraction of the cost—and no need to invest in recruiting, hiring, or training (we take care of that for you!). And our online dashboard and mobile app enable you to stay connected to your customers and on top of your communications at any time, from any device.
---
Request Your Free Consultation
Eave flashing, head laps, back surfacing—when it comes to roofing, you're an expert at what you do. But growing your business takes more than one set of tools. We're experts too—helping roofers like you earn up to an additional $17,989 per year* with customized service and solutions designed to save you time and capture more opportunities
---
Testimonials
"I think that your services are great! You all have really helped our company out. I get so much more accomplished during the day, without being distracted by phone calls. I am really impressed with the quality of information collected, and the prompt notifications!"
- Kate Ashley, Devine Bath
"I have had an excellent experience using Ruby. Having them as backup freed me to not feel tied to phones 24 hrs a day."
- Barbara Norris, Les Norris Roofing
"So much help to my business. We were not able to always answer our phone, and since we started using Ruby, our appointments have almost doubled. They are professional and well worth the money spent."
- Mary Lou Childress, Ram Fencing
"Since we signed up with Ruby we've increased inbound leads by 10-15%, while saving over $1,600 in marketing costs per month. That's a huge return on investment!"
- Ariel Istueta, Istueta Roofing
---
Stay mobile with the Ruby app​
The app that helps you put your phone away. Missed connections translate to lost revenue. With Ruby, you have a partner in gaining and retaining customers. Plus, we're so confident you'll love our service, we offer a 21-day money-back guarantee*. Want to get started now? Give us a call!
How It Works
You forward calls from your phone to Ruby's friendly, award-winning, live virtual receptionists.

We answer and transfer calls, take messages, offer voicemail, place outbound calls, and more.

You can focus on running your business, while Ruby keeps turning your callers into clients.
---
Hear from our Happy Customers

Average NPS Score: 73
Ruby consistently exceeds industry averages for customer satisfaction with our product and services.

Average Response Time: 2 hours
We strive to respond to customer support requests by the end of the day, typically responding in under two hours.

Average Satisfaction: 94%
Our Customer Happiness team gets high marks in friendliness, expertise, and customer care.
Smiles included with every plan.

We believe happiness has a ripple effect: treat people with kindness, and they're likely to pass it on. Ruby's customer support team tends to your needs by updating your account, tweaking instructions, and delving into technology as we address call forwarding with your provider or code snippets with your webmaster. Bottom line: we help you get the most out of Ruby, no matter your plan size. Beyond our rapid response time of under two hours, we also proactively reach out to make sure you're enjoying our service. If you decide to try new call handling instructions, we'll call you a few weeks later to ensure everything is working well. We see matters through to the end.