Together, we share one core belief; convenience wins. It all started with a tire shop. A few years back, Eric (Co-Founder and CEO) got a frustrated call from his dad.
His dad's tire shop had plenty of happy customers, but only a handful of angry ones were leaving reviews.
So we built a product that made getting more reviews as easy as sending a text.
As we set out to solve the same problem for local businesses everywhere, we realized that messaging with customers wasn't just the better way to get reviews—it's the better way to do business.
We've since built a multi-product platform that's modernizing the way local business gets done. Innovation that hasn't gone unnoticed. Though we're still a pretty young company, we've been able to make some noise in the world of tech and beyond. The best part? We're just getting started.
---
5 Tips and Tricks to Improve Your Local Marketing Results
93% of consumers read them before purchasing a service, and 72% of people will write a review when asked 9 out of 10 customers prefer to interact with brands via text.
Learn how automating reviews, texting, and more can boost your reputation
Download the FREE eBook today to learn more!
---

The Ultimate Guide to Winning Customers and Influencing People
5 ways to be remarkable
3 approaches to adapt to new expectations
Free tools to get started
---
The Secret to Asking for Referrals—and Getting Them.
5 proven ways to increase referrals
Key insights into optimizing online reviews
3 steps to formulate the perfect ask
---
11 Content Marketing Examples That Win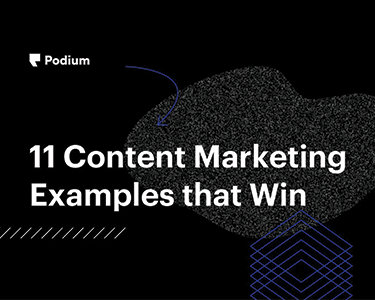 When it comes to reaching and converting your target audience, content marketing is instrumental.
11 content marketing examples that win Consider that content marketing "leaders" experience year-over-year growth of their unique site traffic at a rate 7.8 times greater than "followers." For reference, these rates are 19.7% and 2.5%. But learning how to create content marketing that attracts your target audience and converts them into customers can be incredibly challenging.
Many companies simply aren't sure which strategies will work the best. And you don't want to waste time and resources on ones that don't work well. Studying award-winning content marketing examples offers a solution to this in several ways.
To start, these examples show you the types of strategies that tend to be successful. This can significantly reduce wasted efforts and resources. Good examples can also serve as inspiration when creating content for your company. To that end, we've compiled eleven effective content marketing examples—and the tools and information to help you get started.
---
The Ultimate Guide to SMS Marketing
Everything you need to successfully create and operate effective campaigns. Learn how to:
Grow your opt-in list quickly and naturally

Segment your customers and develop a content calendar

Measure and scale your SMS marketing performance
---
Dominate Local Search: How To Optimize Your Google Business Listing
The best practices as outlined by Google
Ideas on how to make the most of what makes you unique
Tips to get more reviews from your customers
Checklist of how to claim, master and improve your profile
---

2022 State of Local Business
A lot has happened since we released our 2020 State of Local Business report. And we thought it was important for you to know what's changed, what's stayed the same, and what's going to determine success in 2022.
We surveyed 1,304 consumers and 923 business respondents across the US, Canada, and Australia to help you turn an unpredictable 2021 into an unstoppable 2022.
---
Busting 7 Text Marketing Myths with Neil Patel
Want to know the truth about SMS marketing? We sat down with Neil Patel to get the scoop.
7 commonly held myths about text marketing

Key insights from The Ultimate Guide to SMS Marketing

Hot tips from Neil on optimizing your text campaigns
---
State of Payments 2021
It's no secret that today's consumers are no longer accepting the billing status quo. If you sent your client a paper bill now, it might go straight into the stack. And a phone call would probably go straight to voicemail. With the current digital transformation and pressures of a pandemic, payments have changed from "how you get paid" to playing a critical role in your customer experience. And customers are increasingly demanding that businesses provide payment options that enhance their overall experience and allow them to continue the conversation beyond the point of sale.
---
2021 State of Reviews
Learn how reviews are impacting local business more than ever
88% of consumers say reviews influence them in discovering a local business

23% of consumers have read an online review in the last day, and 65% have read one in the last week

83% of consumers say that reviews must be recent and relevant in order to care about them
---
CONNECT: Home Services Summit
Home Services Summit: A Free Virtual Event. 24+ industry experts. 14+ insightful sessions. One unforgettable experience. You won't want to miss this one-of-a-kind virtual summit packed with insights from industry leaders to help you build a superior customer experience, grow your Google reviews, and drive more revenue than ever before.
Presenters include:
Mike Rowe, Former TV host of Dirty Jobs
Neil Patel, SEO Expert, NP Digital
Dan Gingiss, Author and Customer Experience Expert
Tersh Blissett, HVAC Podcaster and CEO of Service Emperor
---
Podium Demo - Text Chat and Online Review Generation
---
Centralize Interactions
With Podium, you'll be able to conveniently manage and respond to every message across multiple channels, all from one platform.
Conveniently connect - Connect with your customers on their favorite channels, whether they started on Facebook, Google, Instagra

Consolidate interactions - Every interaction from your leads, customers, and team members comes to your Podium Interaction Platform™ so you can respond quickly without jumping from inbox to inbox.

Communicate in context - With Podium, you'll have context for every conversation. Pick up the conversation at any time and you'll have a complete history of every interaction.
---
Conversational SMS Marketing That Gets a Response
Take advantage of text's 98% open rate with SMS marketing campaigns that get a real response, and measurable results. Plus, building a prior consent opt-in list has never been easier.
Tailor campaigns to your specific needs.
It has never been easier to build compelling text campaigns. SMS marketing is most effective when it feels personal and relevant to the customer, so Podium allows you to market to specific groups, with personalized content.
Effortless management. Immediate results.
Understanding how your SMS marketing campaigns are working is critical. You'll be able to view digestible results from the Podium Dashboard, so you become a smarter marketer with every campaign.