ANNOUNCING NEW MEASUREMENT TOOLS
Nearmap Now Offers Complete Aerial Map Measurement Tools for Solar and Roofing Industries
The new MapBrowser provides roof-pitch, height, width, and area tools to help companies measure rooftops and structures without onsite inspections; gives small businesses the same advantages as large companies to improve planning and presentation workflows
View your next project in Nearmap for FREE. For more information, visit them HERE.
Nearmap captures urban US imagery multiple times per year, processes massive amounts of visual data, and uploads up-to-date aerial maps to the cloud within days. How? Powerful, patented imaging and processing technology. Our unique speed allows Nearmap to deliver high-resolution aerial imagery as a service: orthographic (vertical) maps, new multi-perspective oblique views, and 3D models. Continuous innovation is key, as each advance unlocks greater detail, value and opportunity. Rapidly scale your business through reliable, updated high-resolution imagery. Now roofing estimators can be everywhere without going anywhere.
See Nearmap's galleries:
Look how easy prospecting can be with galleries like THIS.
See how you can help:
Hurricane Florence Gallery Hurricane Michael Gallery
Learn more about Nearmap:
---
---
On Demand Webinar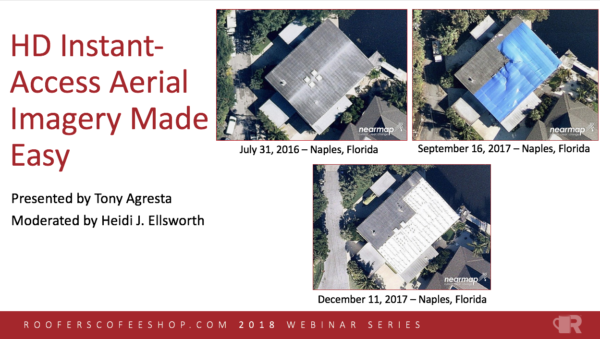 Want some real insight on how this new technology could be a step above what you are currently using? Watch this On-Demand webinar and learn about HD Instant-Access Aerial Imagery and how it can take your job evaluation and measurement process to the next level.
---
To see MORE FREE Webinar's On Demand CLICK HERE
---
Have a little fun with Aerial Imagery: Can you guess where these pictures where taken? Take the Quiz!

---
Watch video from the 2018 International Roofing Expo (IRE)
Exceptional interview and brief demo with Nearmap's Tim Frank.
---
Join us at these Events in 2019
Texas Association of Appraisal Districts (TAAD) Dates: February 24-27, 2019 Location: Austin, TX Booth #: 8
ICSC RECon Dates: May 19-22, 2019 Location: Las Vegas, NV Booth #: N1032
AIA Conference on Architecture Dates: June 6-8, 2019 Location: Las Vegas, NV Booth #: 8527
Esri User Conference Dates: July 8-12, 2019 Location: San Diego, CA Booth #: TBD
International Association of Assessing Officers (IAAO) Dates: September 8-11, 2019 Location: Niagara Falls, Ontario Canada Booth #: TBD
Solar Power International Dates: September 23-26, 2019 Location: Salt Lake City, UT Booth #: 3627
Autodesk University Dates: November 18-21, 2019 Location: Las Vegas, NV Booth #: TBD