The Roofing Solutions Company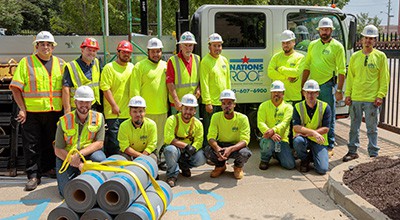 At Nations Roof® our goal is to extend the life of your commercial roof and remove unnecessary costs at every stage of its life cycle. We offer national coverage backed by great local service—no project is too big or too small!
We have grown over 60% in the last 4 years and are continuing to open new locations across the US. Our formula for success is simple: consistent quality, a focus on safety, exceptional customer service—at the best price possible.
WHO WE ARE
Nations Roof is the brainchild of three roofing executives who recognized an opportunity to make a difference in an underserved industry—Commercial Roofing. With over 100 years of combined experience, our founders set out to create a unique company, one that owns all its locations, offers single-sourcing and is not an affiliation of independent contractors.
WHAT WE ARE KNOWN FOR
Since starting out over fifteen years ago, we have earned a solid reputation for delivering consistently good value, high-quality workmanship, supported by exceptional customer service and award-winning safety standards. Through partnerships with all leading manufacturers we can offer choices and solutions, rather than asking you to select from a predefined list.
---
Your Roof is our Business.