MBTechnology was founded in 1983 and specializes in manufacturing SBS Modified Bitumen Roofing & Underlayment systems. These include a variety of systems, which can be applied through the use of cold adhesives, heat welding or hot asphalt. The company specializes in manufacturing SBS-modified asphalt (bitumen) roofing membranes for residential and commercial application. The basic technology was developed in Europe and is one of the fastest-growing segments of both the commercial and residential roofing markets.
We at MBTechnology strive to continuously improve our products. We have pioneered major innovations in the field of modified asphalt, and this commitment to research and development will never cease. Perhaps this is the reason we have acquired an international reputation for experience and excellence.
Since 1983, MBTechnology has been committed to a single idea - engineering affordable premium roofing and underlayment systems that are better than any others on the market. At MBTechnology we recognize the value of not only providing quality products but also back it with details, specifications and inspections.
To address the ongoing demand for environmentally friendly roofing systems, we have recently introduced the fastorch SBS membrane with recycled tire and have made available a Title 24 "Cool Roof" compliant roofing system, thereby enabling our roofing system to contribute to the following Leed points:
MR Credit 5.1 – Regional Materials | MR Credit 4 – Recycled Content | SS Credit 7.2 – Heat Island Effects
Our suppliers of raw materials are aware of the importance we attach to each and every element used in the production of our membranes. Over the years, MBTechnology has worked closely with its suppliers to ensure quality and consistency of all materials. Our in-house quality control guarantees uniformity throughout production schedules. We believe that once you have seen the quality of one of our products, you have seen the quality of all our products.
Learn more about MBTechnology.
---
LayfastSBS Class A Fire Rated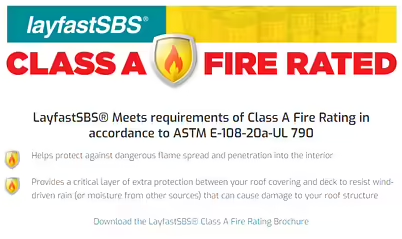 The superior elastomeric modified asphalt underlayment for tile, shingle,and metal roofs is now Class A Fire Rated! LayfastSBS helps protect against dangerous flame spread and penetration into the interior.
It also provides a critical layer of extra protection between your roof covering and deck to resist wind-driven rain (or moisture from other sources) that can cause damage to your roof structure.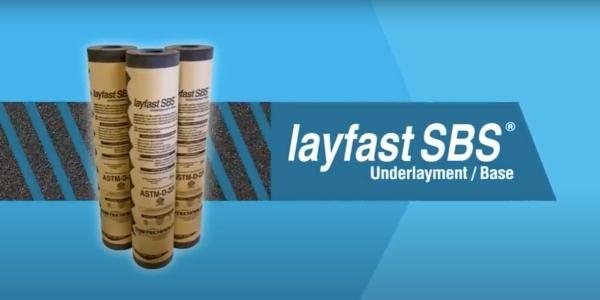 Versatile - Ideal for tile, shake and shingle roofing systems.
Economical - For a minimal cost offer a superior product to your customer, distinguish your bid and increase your chance of securing the job.
Less Decomposition - Fiberglass reinforced (inorganic), doesn't deteriorate like felt.
More Elastic - SBS Rubberized asphalt provides a more pliable and elastic membrane. Minimizes buckels and wrinkles by laying flatter and smoother reducing application time.
Durable - Side laps do not curl up over time. Does not scuff or tear easily and is less susceptible to damage from other trades.
---
Metalflex SBS Cool White 2
To address the on-going demand for energy-efficient roofing systems, MBTechnology has made available the Metalflex SBS membrane with a white reflective aluminum foil.
The membrane meets requirement of Cool Roof, Title 24 and also is Class A fire rated over a combustible deck with no slope restriction.
---
Supercap SBS®
SBS Modified Bitumen MSR Roll roofing available in 10 solid and shingle blend, can also be used as an underlayment and exposed for 1 year (not covered). Class A Fire Rated.
---
See the new MBT Tile/shingle underlayment 10-15-20 and 30-year warranty.
Download our Warranty Brochure.
---
Ecotorch®
Environmentally friendly torch-applied roofing membrane incorporating recycled tire, more flexible than APP and available in 8 different solid and shingle blends and cool Roof granules.
Every roll takes 1/2 tire away from landfills.
---
Layfast SBS®
Premium roofing underlayment available in 3 different weighs, TU35, TU43 and TU70. Available with 10-15-20 and 30 year warranty. ICC approved and ASTM D226.
MBTechnology has developed a landing page to better educate your customers on benefits of using a better underlayment in reroofing. It's geared towards educating homeowners and is great marketing collateral to be used with your proposal.
---
Ice & Moisture Block
Self-adhesive underlayment manufactured with HT formulation for superior adhesion. Available in sand, granulated and polyester finish (metal roof).
MBTechnology's Ice & Moisture Block SBS® is a self-adhesive, SBS-modified, rubberized asphalt membrane. The Ice & Moisture Block SBS® provides extra protection and prevents moisture penetration from windblown rain or ice damming. It is applied over critical roof areas such as eaves, ridges, valleys, dormers, and skylights. The sealing adhesive is protected on the bottom with a split release sheet which is removed during application.
Ice & Moisture Block SBS® is available in three grades:
SA65G: Manufactured with fine granule surfacing; ideal for tile and shingle roofs.
SA65S: Manufactured with a smooth sand finish which enables the membrane to also be used as a self-adhesive base for APP and SBS systems.
UltraStick-HT SA68PHT: A self-adhesive SBS Modified Bitumen underlayment manufactured a polyester top surfacing. It's manufactured with a dual split release film to allow easier installation.
• 30 year limited material warranty.
• Seals around fasteners.
• UV resistant up to 6 months.
• Suitable for metal and tile roofs.
• Slip resistant polyester surfacing.