Our comprehensive construction chemicals portfolio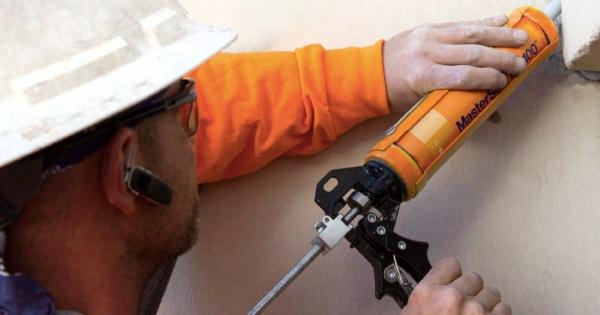 includes concrete admixtures, waterproofing solutions, concrete repair and protection solutions, performance grouts and performance flooring solutions.
We specialize in Air barriers Cement additives Concrete admixtures and fibers Concrete protection Concrete repair Flooring Grout Sealants Waterproofing Underground construction.
Master Builders Solutions represents more than 100 years of experience, innovation and expertise in the construction industry, providing advanced chemical solutions for new construction, maintenance, repair and renovation of structures. Since the early 1900's, the company has pushed the limits of chemistry and convention to develop and introduce products that improve construction in any application. In 2014, Master Builders Solutions was launched. With the introduction of Master Builders Solutions to the construction industry, BASF launched a host of new and innovative technology including….
MasterSeal® NP 1™ is a one-component, high-performance, non-priming, gun-grade, elastomeric polyurethane sealant. It requires no mixing and typically requires no priming to bond to many materials, including concrete and masonry. Trust MasterSeal NP 1 for your critical applications, from wall joints and window perimeters to roof seals and fire-rated joints.
MasterSeal NP 100 is a high-performance joint sealant that offers strong, primerless adhesion to the broadest range of substrates.
MasterSeal NP 125 is a one-component, high-performance, non-priming, gun-grade, thermoplastic adhesive and sealant. It requires no mixing and bonds tenaciously to common building materials, including concrete and clay roof tiles, metal flashings and masonry.
Find a Rep in the U.S. or Canada.
---
MasterSeal HY 35
MasterSeal HY 35 is a one-component, fast-curing, gun-grade, elastomeric hybrid sealant. MasterSeal HY 35 is formulated with unique polymers that allow for versatile adhesion to a variety of substrates providing long term durability. It combines the best qualities of organic and silicone sealants to keep moving joints weathertight.​
Recommended uses: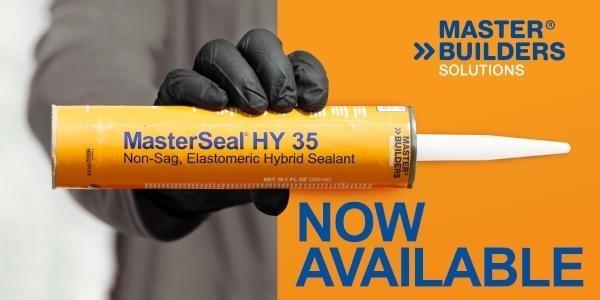 Vertical or horizontal
Exterior or interior
Above grade
Panel walls
Aluminum, vinyl, and wood window frames
Fascia
Parapets
---
MasterEmaco OneMix Concrete Repair System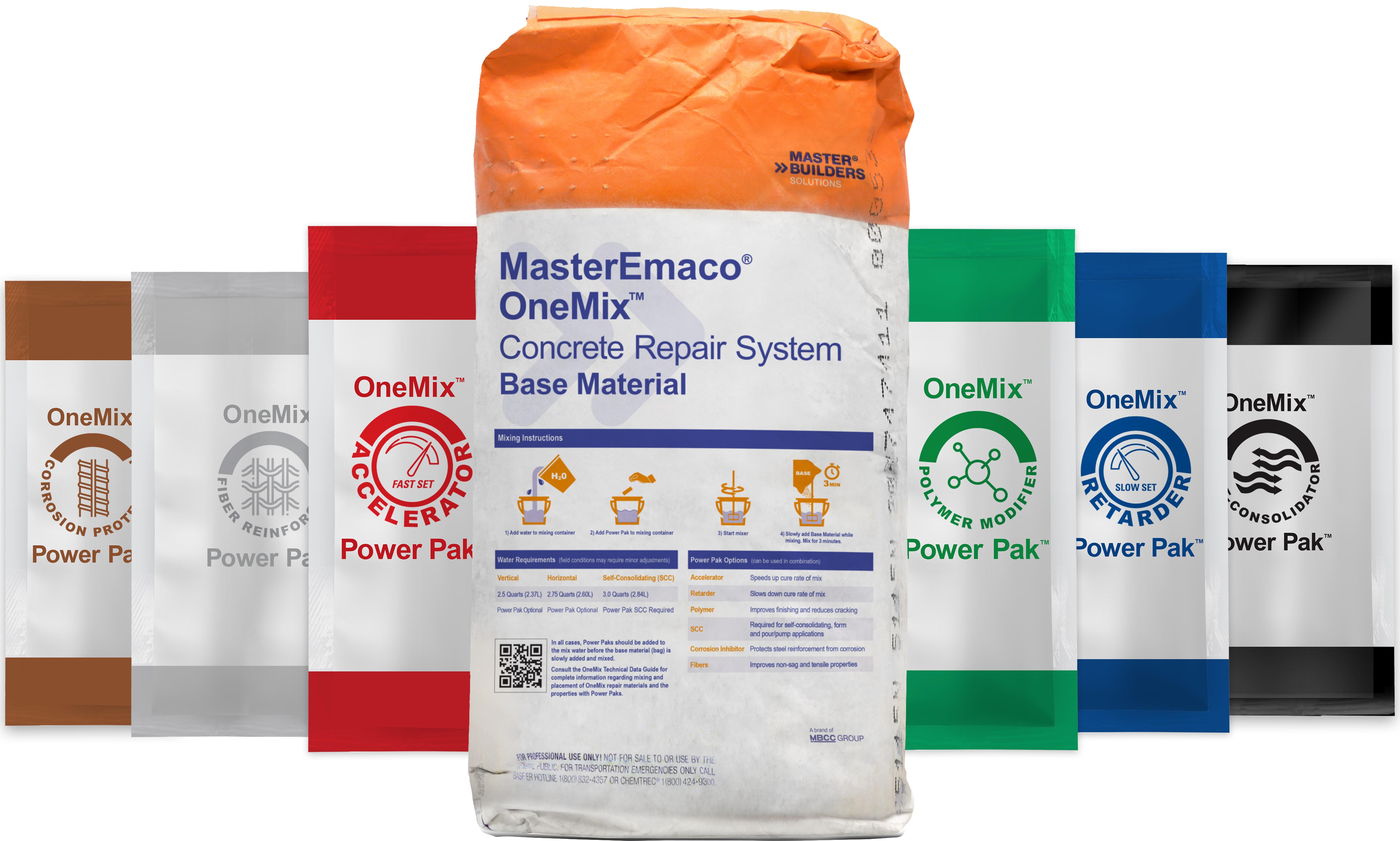 ​MasterEmaco OneMix Concrete Repair System is a ​versatile concrete repair system that can be used alone or with performance-enhancing Power Paks.
When mixed with different water levels, the base bag can be used alone to produce a quality vertical, overhead and horizontal repair mortar and a form & pour material when mixed with the Self-Consolidator Power Pak.
Watch this short video​ to see how it works.​​
What are the benefits of the MasterEmaco OneMix Concrete Repair System?
​Easier to use, greater flexibility – Contrators can quickly and easily create a repair material suitable for many different applications, on the spot.
Superior performance – once mixed, the MasterEmaco OneMix Concrete Repair System provides increased durability compared to competitive products.
Reduced storage and jobsite complexity – rather than storing multiple repair materials, contractors can use the same universal base material for many job types.
Better for the environment – the small, water soluble Power Paks results in less storage space and less waste
---
Coating and Finish Visualizer
A Professional Render Service. Our team will prepare your photo quickly and efficiently to help your customers select products. This visualizer offers the ability to design what the building will look like by choosing wall and sealant colors. Choose a product to start
customizing the look; you can choose from a variety of different finishes, textures, and colors:
Elastomeric
High Build Wall Coating Products
MasterSeal Traffic Deck Membrane
MasterSeal Traffic Decorative
Thin MIL and Hydrophobic
Please upload your photo below to begin the process.
---
Advantages of Using Liquid Applied Waterproofing Membanes
The advantages of liquid applied waterproofing membranes: MasterSeal solutions are highly elastic,
fast curing membranes. The systems can be applied on
All roofs. This includes green roofs, roofs with slopes,
roofs with architectural complex structures and
details, flat roofs etc.
Your benefits:
Continuous monolithic waterproofing
High elasticity and crack bridging capacity
Long life - UV and weather-resistant
Hot spray application for faster and easier
application over large areas
Hand applicable systems for areas where spray application is not possible.
For new and refurbished roofs.
Versatile - can be applied to a variety of substrates using selected primers
Easy detailing without the need of seams, prefabricated moulded parts, mechanical fixings or additional flashings.
Quick hardening: so, application of successive parts of the system can proceed without delays or downtimes.
Any comments or questions? Our expert Albert Berenguel would be happy to hear from you!
Just write him an e-mail: albert.berenguel@mbcc-group.com
---
MasterSeal® NP 1™
MasterSeal NP 1 (formerly known as Sonolastic NP 1) is a one-component, high-performance, non-priming, gun-grade, elastomeric polyurethane sealant. It requires no mixing and typically requires no priming to bond to many materials, including concrete and masonry. Used as an acoustic sealant, MasterSeal NP 1 reduces sound transmission in partition systems to support high STC values by sealing spaces around cut-outs and at perimeters of partitions.
Unique Features:
Available in ProPaks, reducing jobsite waste, lowering disposal costs
12 standard colors to match a wide variety of common substrates
Wide temperature application range makes MasterSeal NP 1 suitable for all climates
UL listed; Passes 4–hour, 4–inch, fire and hose stream test when used with Ultra Block or mineral wool
Suitable for water immersion with documented performance in wet areas
Meets VOC requirements in all 50 states
Benefits:
One-component formula requires no mixing, helping to reduce labor costs
Joint movement capability ±35% provides excellent flexibility for keeping moving joints weathertight
Easy to gun and tool, speeding up application and making neater joints
No primer required for most construction materials lowering installation costs
Weather resistant for long-lasting weather tight seals
Compatible with non-rigid coatings and can be painted
Superior holding power for long-lasting roof tile installation
Applications:
Interior and exterior
Above and below grade
Immersed in water
Expansion joints
Panel walls
Precast units
Aluminum and wood window frames
Roofing
Fascia
Parapets
Vinyl siding
Store front assemblies
---
Quantifying Sustainability
Third-party validated tools and services allow Master Builders Solutions to evaluate and compare the sustainability of products to help construction professionals make informed decisions. The aim of Master Builders Solutions' Eco-Efficiency analysis is to compare similar products or processes. The Eco-Efficiency analysis balances the environmental results with a product's cost-effectiveness. It helps Master Builders Solutions and our customers decide which products are the best choice both ecologically and economically.
Developed and used by Master Builders Solutions in its own product development process since 1996, EEA methodology follows ISO 14045 for eco-efficiency and ISO 14040 and 14044 norms for life cycle assessment. The methodology has been third-party validated by NSF International.
Since 2010, Master Builders Solutions​ has been using the EEA methodology to examine the environmental life cycle of sustainable concrete solutions, beginning with the extraction of raw materials through the production of concrete. This analysis quantifies the economic and ecological benefits of alternative concrete mixtures.
There are two main outputs from this analysis:

An "Ecological Footprint " which provides a normalized environmental comparison of
different product alternatives analyzed with standardized environmental categories.

An "Eco-Efficiency Portfolio" which considers social and statistical weighting factors to
develop a single ecological impact for each concrete mixture balanced and plotted
against the cost for each alternative mix. The most economical and ecological
concrete mixes move directionally toward the upper right quadrant in the
Eco-Efficiency Analysis portfolio. In this case, Concrete Mix 4 is shown
as the most Eco-Efficient alternative.