Malco Products, SBC, got its start in 1950 when Mark W. Keymer, a young steel supply salesman, decided to manufacture and market a pipe crimper he had invented for installing the "new" sheet metal ductwork used in forced air heating systems. Today, the legacy of that exciting start-up company lives on and the early Malco tools have since been joined by hundreds of other specialty products.
Malco is dedicated to producing innovative, dependable, and high-performance hand tools at our corporate headquarters and manufacturing facility in Annandale, Minnesota.
This dedication to craftsmanship is why Malco is one of the nation's leading solution developers and manufacturers of "tools of the trade" for HVAC (Heating, Ventilating and Air Conditioning), RSG (Roofing, Siding, and Gutters), and fence and rail installation professionals. Malco continues building its success around service to the trades and a steady stream of new and exciting labor-saving tool designs that address an ever-changing industry landscape and respond to emerging market needs for new specializations and more customized products and services for the end-user. Our employee-owners are committed to producing tools of lasting quality and performance that promote on-the-job safety and health for hands-on pros who have come to rely on the trusted Malco brand.
---
NEW Modular Metal Benders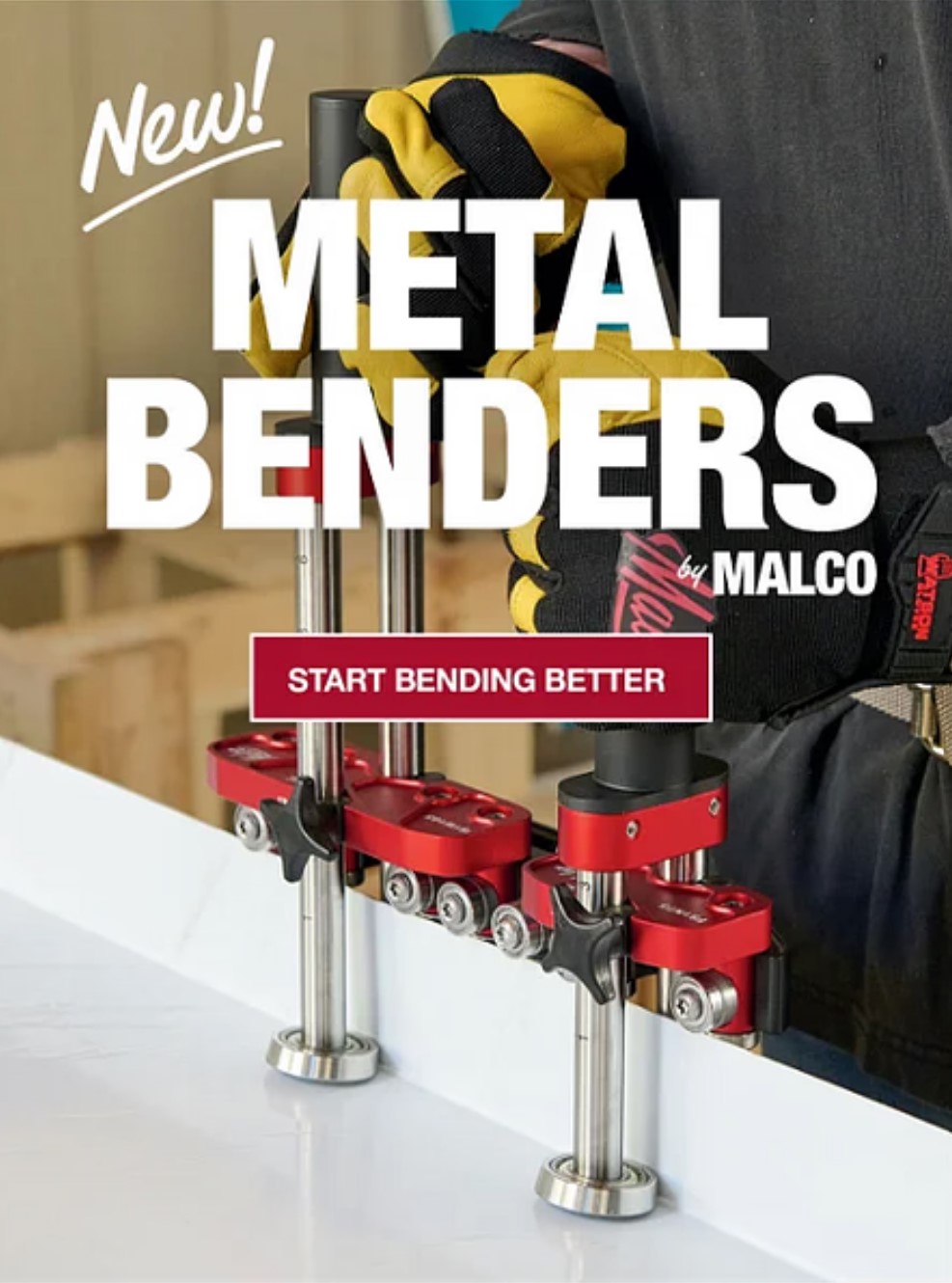 Your search for a light, versatile, and modular bending tool is over: look no further than the professional-grade Metal Benders by Malco!
Form 0-100° bends on straight or curved panels of any length on the jobsite, without waiting on wholesale rollformers. Metal Benders by Malco are designed for bends on flashing, roofing details, standing seam and exposed fastener metal roofing.
Malco's Metal Benders are available in five single-station models:
Narrow, 75mm (FS1N75)

Narrow, 165mm (FS1N165)

Wide, 165mm (FS1W165)

Wide, 215mm (FS1W215)

Wide, 365mm (FS1W365)
Narrow bearing stance models follow curved panels easily or form straight bends when needed. Wide bearing stance models provide more control for straighter bends. Both variations may be paired with a Bender Connector (FSC1) for a modular experience, allowing pros to customize their set-up in a one or two station configuration. Metal Benders have adjustable rollers for different thicknesses and materials, and the exclusive angled roller avoids scratching material on 90° bends. It can also be customized by replacing the angled roller with the optional 2mm Large Radius Accessory (FSLR) for "softer" bends in materials like copper, zinc, and aluminum. Malco's Metal Benders are built tough with premium CNC aluminum and stainless-steel components for more durability and stability, allowing for more precise and higher quality bends.
---
Head of the Class: Learn, Achieve, Succeed

Since 2005 Malco has reached out to over 85,000 students representing over 1,000 Technical School, Union JATC, and Industry Association career education programs across the U.S.A. and Canada.
Each school term, Malco Products recognizes outstanding students graduating from career education programs in Heating, Ventilation & Air Conditioning, and Building Construction. The Malco "Head of the Class" Student Recognition Program awards a graduating student, that you select from your program for "Head of the Class" honors, a significant MALCO TOOL PRIZE, congratulatory CERTIFICATE and a MALCO CAP.
There are no further Malco requirements. The graduating student that you select for "Head of the Class" honors will receive the tool prize described. Guaranteed! And all members of the class receive a MALCO C-RHEX, MALCO CATALOG, and a "Stylish" MALCO CAP! THE ONLY REQUIREMENT IS THAT YOU APPLY. See links below, by trade/region, to view your program details and electronic application form, and our Communication Toolkit for Head of the Class Participants, which is a resource that helps you, the educator, in communicating winners and your head of the class program to local news, school blogs/newsletters/websites, and social media. Also, see our "Custom Tool Kitting Program" flyer and the Malco "Head of the Class" Photo Gallery.
HVAC Head of Class Program (USA & CANADA).
Building Construction Head of Class Program (USA & CANADA).
See our custom tool kitting program flyer.
View our Head of the Class Communication Toolkit.