Who are we:
Whether your goal is to be first to market or send a reminder to your service area that you're there to help them, HailPost specializes in direct mail trigger programs designed to quickly and easily target customers that need to hear from you most. HailPost was designed to be the business owner's marketing arm, allowing you to focus on your current customer base while we focus on filling your future pipeline. We're powered by ddk marketing, an established direct marketing firm based out of Chicago, and provide direct mail marketing campaigns for companies with 10 employees or 10,000. Our goal is to create simple to use yet innovative solutions for marketing challenges delivered with a personal touch.
Why HailPost:
free + easy to sign up Just provide us your basic information here to enroll in our storm notification program. It's that simple.
backed by data We leverage the patented science-based program from HailStrike to find the homes most likely to be affected in your area, ensuring you never have wasted mail.
proven marketing HailPost is powered by ddk marketing, a proven direct mail company that has mailed over 113 million pieces with customers reporting a 95% positive return on investment
partnership made simple We've simplified the selection and ordering process of your direct mail campaigns down to a single call or email. Whether you're on the road or on the job, you can call your dedicated Account Manager and we'll take care of it all for you.
What you get:
a dedicated Account Manager available to answer all your questions via email, call, or text
free automatic storm notifications when your service area is affected
access to a variety of engaging direct mail pieces, personalized to your business
How to get started:
1. sign up for free by giving us your name, address, and service area
2. Select from a variety of engaging direct mail formats that can be customized with your logo, business accreditations, and special offer
3. If you see a storm you want to mail, simply click to order and have your mail pieces in-home within days.
It's that easy! Have questions? We'd love to chat! Give us a call or shoot us an email to put us to work on finding your next customer today! findoutmore@ddkmarketing.com 312.971.2283
How the Program Works: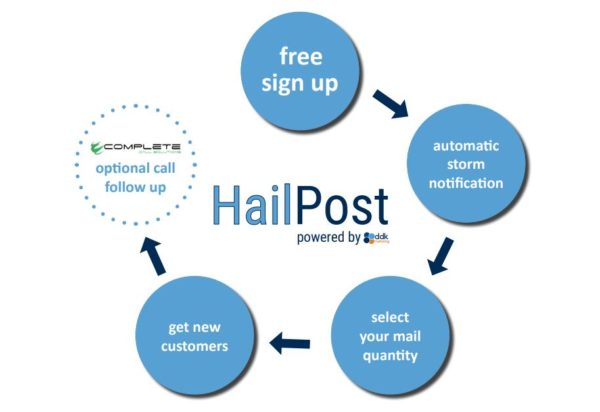 ---
Check out the latest HailPost happenings below! Going to the MRCA Conference & Expo? We'd love to chat! Stop by our booth and find out more about how to put HailPost to work on finding your next customer. Booth #522
---