The mission of our Energy Roofing Team is to provide an exceptional roofing experience. This requires dedication to excellence throughout the entire roofing selection and installation process. Our methods are seasoned with decades of industry experience so you benefit from the best practices learned throughout our time in the industry making us one of the best for roofing Gainesville FL .
Our ERC Team is dedicated to providing you with ROOFING EXCELLENCE. We are committed to constant improvement of best practices to assure the communities we service with industry leading roofing solutions that meet your budget.
---
Residential Roofing
We provide our clients with a range of options that let you choose the roof system that will provide the PROTECTION, LOOK, and VALUE that best suits your needs. Once you choose the best fit for your budget and property goals, we then install it with our high quality standards and best practices.
Asphalt Shingle Systems
The most common steep slope roofing solutions today are asphalt-fiberglass shingle systems. They provide a variety of appearances, levels of protection, and various life spans. They are suitable for a wide range of budgets and offer a cost effective solution when compared to other types of systems. It is very important to know what components are being used in every aspect of the system. Shingles don't do the job of protecting your property by themselves. They need the help from quality components, like the underlayment, starter shingles, ventilation, hip & ridge caps, and flashings to provide proper protection from the storm.
Be sure to know exactly what components are being used before you make your final roofing selection!
Metal Systems
Metal roof systems offer some of the best protection, beauty, and longevity for steep slope roofs. However, not all roofs are designed for every type of metal roof system. It is important to select a metal roof that is engineered to perform effectively for your particular roof design.
There are two basic types of metal roof systems we offer…
Roll Formed Systems:
Enclosed and exposed fastener systems
Ribbed & Standing Seam profiles are most common
Important to choose a profile best suited for your roof design
Stone Coated Steel Systems:
Shingle, Tile, Shake, and Slate profiles available
Engineered to provide excellent protection for most steep slope roof designs
Be sure to investigate thoroughly which type of metal roof system will best suit your needs.
---
Commercial Roofing
Low Slope Roofing
Structures with low slope roof designs face a variety of challenges in protecting the contents below from the storms. Our roofers in Gainesville FL specialize in identifying the best roofing solution options that fits your PROTECTION, BUDGET, and SUSTAINABILITY goals for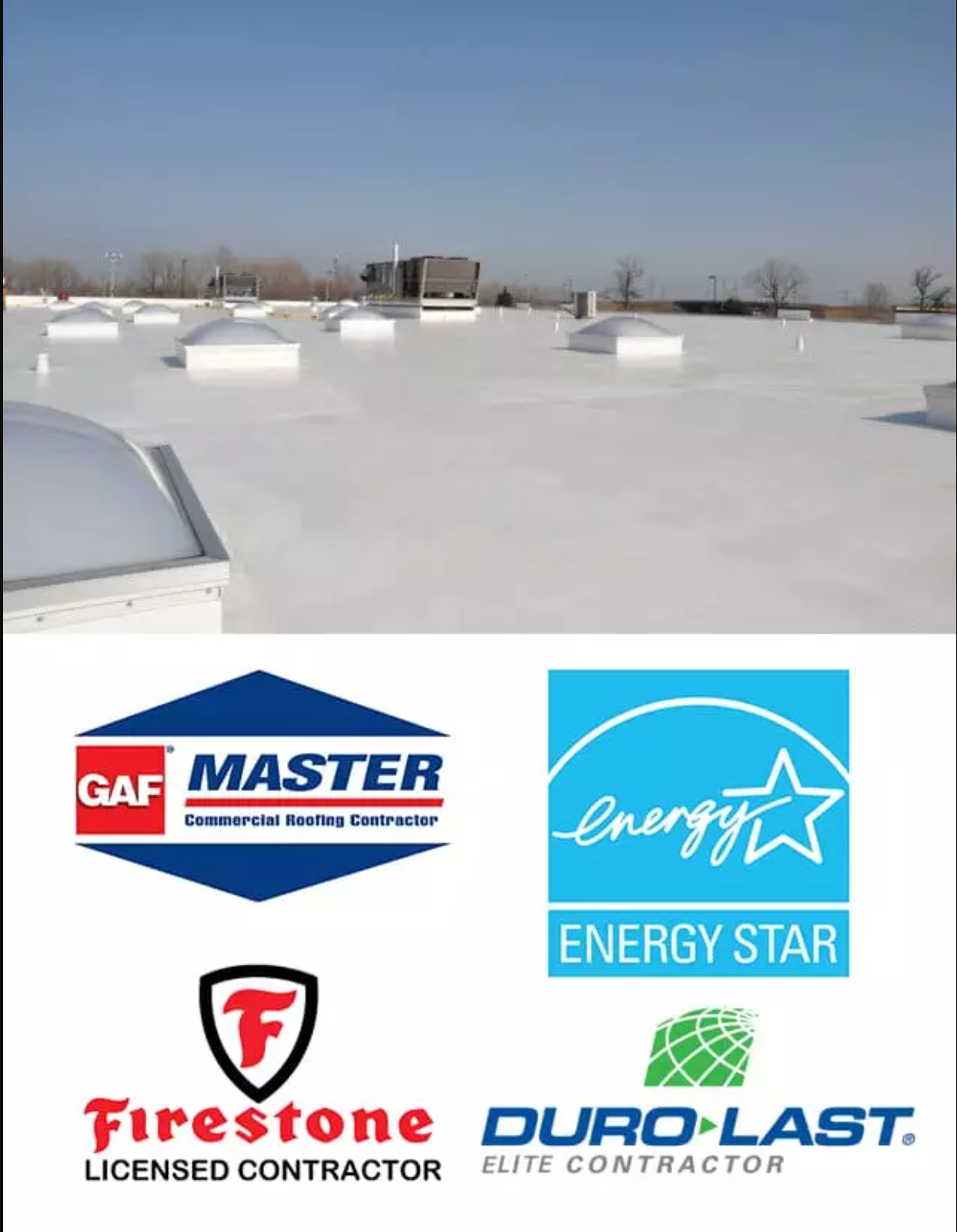 your property.
Single Ply Systems
Single ply roof systems have become one of the most common low slope roof applications. They come in a variety of thicknesses, colors, and compositions to meet the various protection needs for your structure. Combine that with premium, pre-manufactured components, and you can design a tough roof that will offer great protection. PVC and TPO compositions are the most popular single ply systems.
By installing the most popular bright white membranes, you can even save money on your cooling costs by reflecting the heat. This will decrease the heat load on your building meaning your HVAC system will run less, save you money on your utilities, and last longer. Making sure your next roof is a COOL ROOF should be a top priority.
Asphalt Based Systems
Asphalt based low slope systems have been one of the longest and toughest for decades. Layers of asphalt membranes are combined to provide a built-up barrier against the elements. Today's asphalt formulations are combined with modified polymers that provide more endurance, flexibility, and self-healing properties to the bitumen composition.
The specifications are broad and varied within the asphalt based low slope systems. It is important you identify the system that will suit your needs best and offer the least vulnerability to your roof design. When the right asphalt system is installed properly, it can be one of the toughest low slope options available.
Fluid Applied Systems
Have an old roof you wish you could recondition to perform like a new roof? Our fluid applied roofing systems could be the right fit for you. The proper formulation and application could offer a cost effective solution that will provide a monolithic roof coating that can extend the life of your existing roof, turn it into a money saving COOL ROOF, and even perform better than when you original roof was first installed.