Tyvek® Protec™ Introducing an innovative material breakthrough from DuPont™ Tyvek®, the trusted name in total building envelope solutions.
Tyvek® Protec™ roofing underlayments feature a unique embossed pattern allowing for better traction and grip while walking on the roof. Plus, you'll enjoy the added benefits of lightweight durability, excellent secondary moisture protection and a wrinkle-free surface for smoother installations. Tyvek® Protec™ underlayments are ideal for jobs from renovation to new construction, and designed for slopes 2:12 and higher under a variety of roofing materials.
---
Watch videos from the 2018 International Roofing Expo (IRE)
---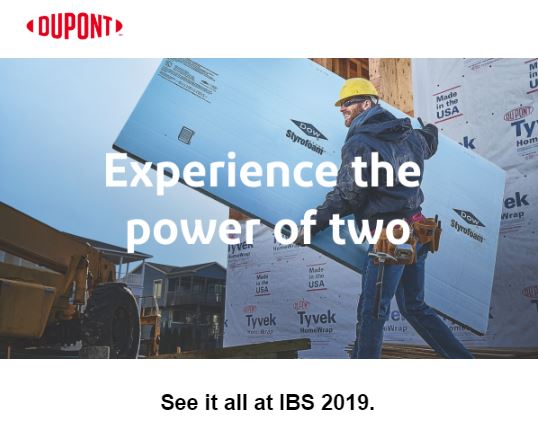 Dow Building Solutions and DuPont Tyvek® Building Envelope Solutions have come together as DuPont Performance Building Solutions. Our unprecedented portfolio of products, innovative technology, and knowledge provides the freedom, flexibility, and confidence to make every house home worthy.
Experience our combined building products portfolio at the NAHB International Builders' Show® (IBS) in Las Vegas, February 19–21.
Visit us at these locations during IBS. Booth C5837, Booth P17 Tiny House in the Outdoor Exhibits
See our products and product specialists at these additional event locations:
NAHB High-Performance Building Zone
NAHB The New American Home 2019
ProTrade Craft Stage
Professional Builder® Show Village
The Align Project by Kasita, presented by Green Builder Media
ave