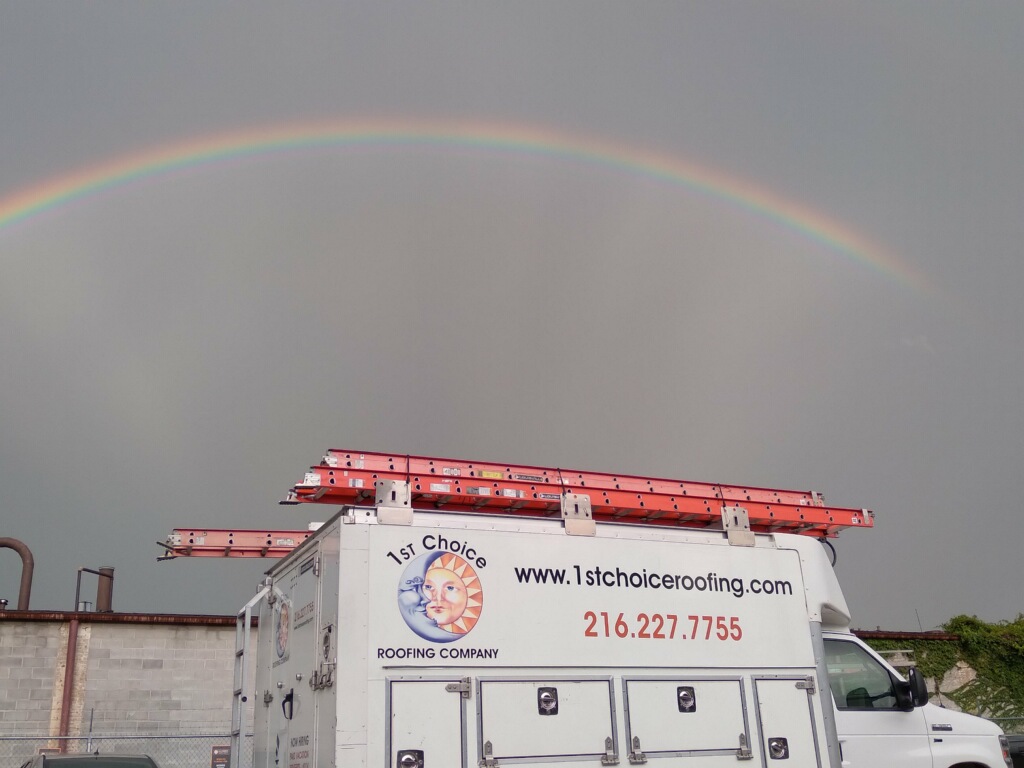 1st Choice Roofing is an award-winning commercial roofing company with a forward thinking team that follows both traditional and family business values. Staying on the cutting edge of technology while incorporating our field experience enables our company to tailor our professional expertise to each customer's specific needs. We pride ourselves with quality craftsmanship and integrity on every job site, and welcome the opportunity to assist in your upcoming project.
What makes 1st Choice Roofing unique…
Professional culture
Trusted relationships
Relentless focus on quality
---
Commercial Roofing
TPO Membrane
TPO membranes are single ply roof membranes constructed from ethylene propylene rubber. They are designed to combine superior durability rubber with the proven performance of hot air welded seams. These systems include a reinforcement fabric that help make these roofs resistant to tears and punctures, yet they still maintain good flexibility to allow for building movement. The seams and flashings on TPO roofs are typically secured using a hot air welder. These technically sophisticated welders quite literally melt the material together at the seams to form a long lasting bond. This technique provides superior seam strength and does not rely on glue or tape. They have been tested as having excellent resistance to ozone, and are algae-resistant, environmentally friendly and safe to install. We install TPO roof systems one of three ways: fully-adhered, mechanically-fastened or Rhino Bond adhered. TPO roof systems are most often white, but are also available in other colors to meet any aesthetic requirements of a particular application. TPO roofing material is also available in a variety of thicknesses to help meet different needs of each individual project.
EPDM Roof System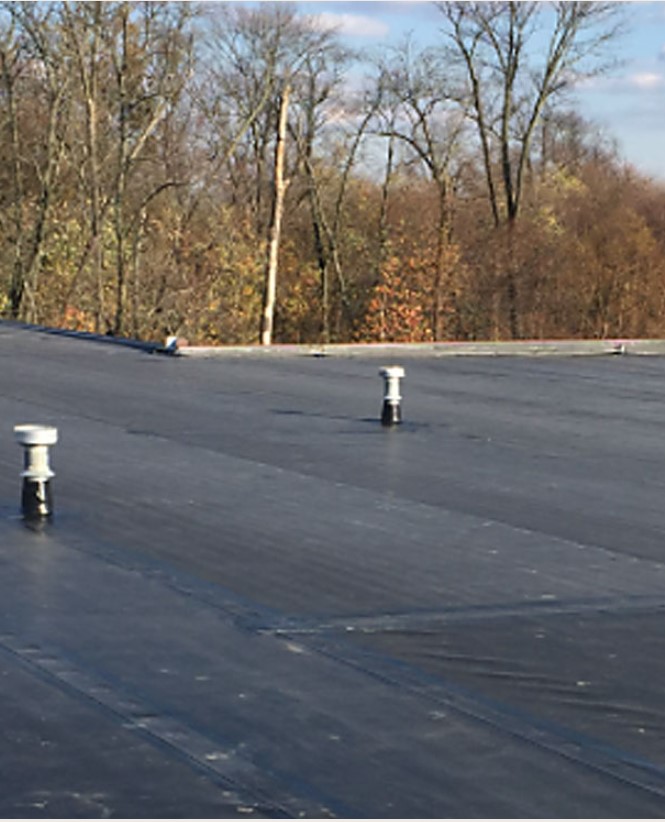 EPDM is the acronym for the chemical composition of rubber Ethylene Propylene Diene. "EPDM", "Rubber", "Black Rubber", and "EPDM Rubber" all refer to the same roofing product. This EPDM membrane is classified as a thermoset material, as it is either fully-cured prior to installation or it cures during natural weathering after installation. EPDM roofs are single ply membranes, meaning that there is only one ply of roofing material rather than multiple plies laminated together. EPDM is available in a variety of thicknesses. As a general rule, the thicker the material, the longer the warranty available.
EPDM has been in use on roofs in the USA since the 1960s and is one of the most common types of low slope roofing materials. While single-ply roofing systems as a whole have gained market share, EPDM as a percentage of that category of roofing has fallen. The seams on EPDM roof systems are sealed using either an adhesive or splice tape. This system can be applied one of three ways: fully-adhered or mechanically-fastened.
PVC Roof System
PVC is one of the pioneering single ply roofing materials. PVC in its natural state is rigid, like PVC pipe. PVC roof membranes, however, are quite flexible as a result of the presence of plasticizers in the chemical formulation. These systems also include a reinforcement fabric that help make these roofs resistant to tears and punctures. One of the primary benefits of a PVC roof system is the fact that the seams and flashings are secured using a hot air welder. These technically sophisticated welders quite literally melt the material together at the seams to form a long lasting bond.
---
Residential Roofing
1st Choice Roofing is Northeast Ohio's premiere roofing contractor for homeowners seeking quality craftsmanship and customer service. As a Cleveland based business, we provide a variety of roofing options to enhance the overall aesthetic of your home and specialize in historic restoration and preservation.
We are not the average the roofing company. We take pride in our core values of integrity, customer service, accountability, reliability and education. These core values are the foundation of our customer relations and employee development. We strive to elevate the roofing industry by routinely providing trainings and educational opportunities for our team.
---
Specialty & Historical Roofing
Restoration Roofing
Our team of skilled roofing tradesmen work with many kinds of materials, including clay tile, copper and other ornamental metals, slate and wood shake. In everything we do, we strive to create restorations that are as beautiful and durable as the original, maintaining aesthetics to its core design principles while adding years of life by using modern techniques and materials as needed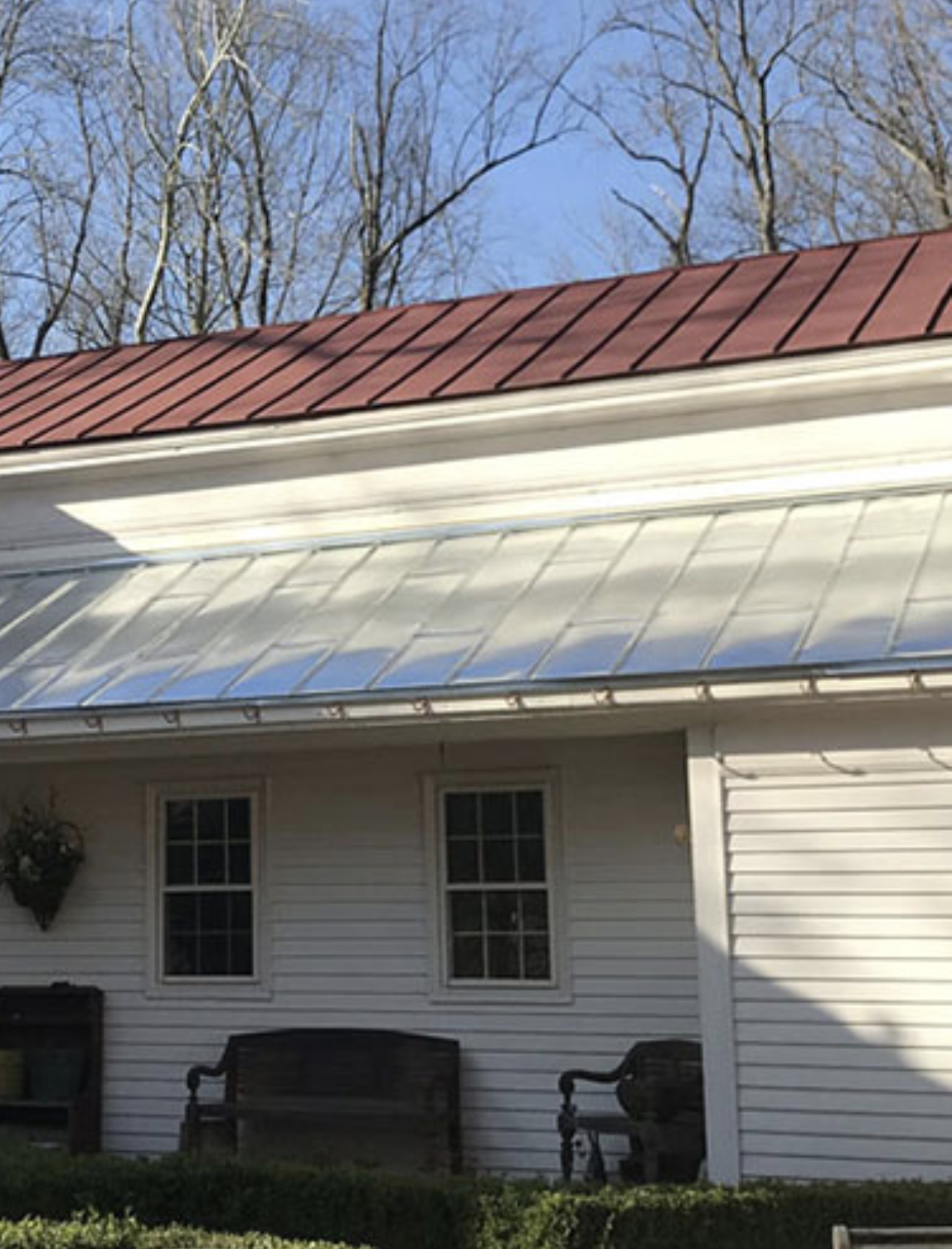 Tile Roofing
Tile roofs have been built for centuries and require both specialized craftsmanship and equipment to install correctly to achieve their maximum lifespan. Unlike conventional asphalt roofs, a tile roof is a significant investment into your home, which should be entrusted only to a tile roofing SPECIALIST.
Metal Roofing
Whether your building is an industrial warehouse or a historic Victorian home, a metal roof from 1st Choice Roofing will help enhance its value and appearance while providing a superior leak-free barrier to the elements. The 1st Choice Roofing specialty roofing division can fabricate any custom metal roof and accessories using superior roofing. Even the most exotic and exacting designers will be pleased with a 1st Choice Metal Roof. Our experience with architectural elements like flashings, finials, standing seams, cupolas, cornices and steeples ensure that a custom order transitions into a beautiful completed job.
Slate Roofing
Slate roofs are very water-resistant, and able to withstand heavy accumulations of snow. Roofing slate is available in many colors and shapes. They can also be installed in various patterns, creating impressive designs unique to your roof. A properly designed and installed slate roof is significantly more expensive than many alternative roofing materials like shingles, thus requiring a significant investment from the homeowner. However, because a slate roof is viewed as a luxurious amenity, it can increase the resale value of the structure. The added durability and attention to detail of slate roofs boosts their life expectancy over 100 years, far exceeding many other roofing systems.
---
Looking to join our family?
We care for our employees. Our team members are provided with a full benefits program, 401k with company match, profit sharing, paid vacations, wellness programs and weekly on-sight yoga classes. We believe investing in our employees provides the best opportunity for both the personal and professional success of our team.
Why Choose 1st Choice Roofing?
Every employee is a part of our family and is what makes us great!
Our benefits include 401K Matching AND Profit Sharing along with health, vision and much more. (See below.)
We're the top growing roofing company in Northeast Ohio on the Inc. 5000 List 2019 and 2020
Safety is our priority.
We provide continuing education opportunities.
Your job will bring you some of the most beautiful views of Ohio.
We're growing! View all of our open positions and apply today!
---