WSRCA - WRANGLER OF THE YEAR COMPETITION 2019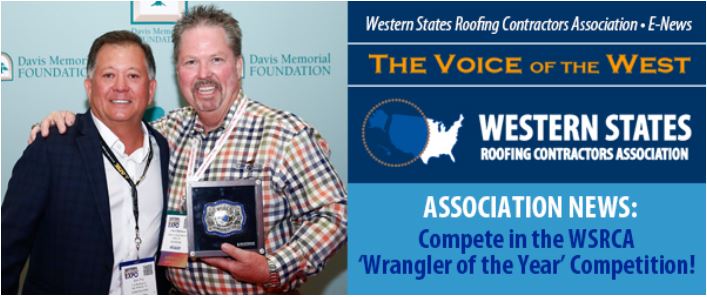 Greetings WSRCA Members,
There is still plenty of time to compete in this year's competition! From now until June 11th, if you recruit or renew the most members... you will be named the "WSRCA Wrangler of the Year" and receive the following honors for your efforts:

• The one-of-a-kind WSRCA Wrangler of the Year 2019 jeweled belt buckle.
• Cash Prize of $1,000
• Free dues on your company's membership next year
• Exposure in Western Roofing Magazine (22,000+ circulation)
• Winner will be announced and awarded the title of "Wrangler of the Year" at the end of the Western Roofing Expo 2019.
WHAT ARE THE RULES?
1. Any new WSRCA Member you bring in earns you points:
• Contractors = 3 points
• Associates = 2 points
• Branches = 1 point

2. Points can also be earned by renewing expired members (the same point system above applies.)
3. To have your points recorded, either:
• Call the WSRCA office at 1-800-725-0333
• Send confirmation to alec@wsrca.com
• Turn in the new member applications at the WSRCA Booth during the Western Roofing Expo 2019.
4. Points will be collected up to June 11th at 4:30pm.
Let's all work together to grow our roofing community!
Sincerely,
Alec Ward | Director of Membership
Western States Roofing Contractors Association
356 Digital Drive, Morgan Hill CA 95037
alec@wsrca.com
Direct: (650)938-5441 x.1004
Not a Member of Western States RCA? Click Here to Join!
or call Toll Free 1-800-725-0333