ARMA - Excellence in Asphalt Roofing Award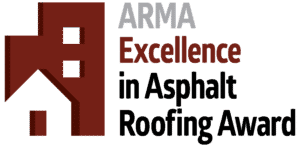 ARMA Excellence in Asphalt Roofing is a new awards program that honors exceptional displays of asphalt roofing craftsmanship and skill across North America. Completely free to enter, the program accepts both steep and low slope submissions and crowns three winning projects annually (Gold, Silver and Bronze).
The program provides professionals an opportunity to display their work, gain inspiration and ideas for future projects, and share their roofing pride! Every home, business, hospital, fire station, school and gym needs a roof; whether it's a major commercial installation or a small residential project, ARMA invites you to submit your best asphalt roofing projects!
The application is extremely easy to use and everyone with a camera and internet access can easily participate. Will you be the next Excellence in Asphalt Roofing winner?
SUBMISSION DEADLINE: December 31, 2019
Are your asphalt roofing projects among North America's Best? No limit to the amount of eligilble submissions. Submit today!